Summary of this event & future actions
Moderator: Clarice Gargard
Speakers:
Jan Hein Hoogstad, Leonieke Verhoog, Geert-Jan Bogaerts, Sander van der Waal, Douwe Schmidt, Quirine van Eeden, Simone van der Hof, Marleen Stikker, Serv Wiemers, Paul Helsloot, Evelyn Austin & the politicians who signed the Stembusakkoord.
—
First Leonieke Verhoog, program manager of PublicSpaces, summarized the outcomes of the different tables at the matchmaking sessions: on hybrid events, on 'werk maken van het manifest, hoe doe je dat?' and 'de bibliotheek als publieke ruimte'.
Douwe Schmidt, moderator of the break out sessions on 'Persoonsregistratie' and 'Afstemmen aanbod en vraag': the challenge lies with the parties who have to implement it. It is largely social; the next boundary is that big organizations such as VPRO just need to adopt it. The technology is there, the social acceptability is still lacking. Just start very small: have a small group of people try it and show that it works. And companies such as Facebook etc should not become the standard for identity (especially with bank and government websites), and the technology is there so we just need to use it! Trust is also an issue.
Geert-Jan: PublicSpaces should be about public friendliness instead of user-friendliness. Watch his session 'Wat is er mis met het internet?'.
Clarice: there is a discrepancy between the public values and the way public organizations are being held accountable. We have to get rid of the idea that one person is responsible in the end: not as a buyer nor as a developer.
Sander: there is lots of suitable technology out there, but how do we find and use it?
Ian: An important point was about the maintenance of the map: it takes time and it's not something you want to do because it is supposed to be community-run. The goal is to hand the map over to the community, it should not be privately owned.
Jan Hein: disruptors are not big names like Steve Jobs, but are people who protect public values on the internet. Disruption is not one event that has an ever-lasting effect, rather it needs defending. The main take-aways: we shouldn't thing that we didn't think of the problems before, because they were always about at the top of the developer's mind, also back then. Second, it is never about just one layer, it is always about the whole stack. Third: we should look into the way legislation plays a role. It is not about more or less government, but about in-depth conversation to investigate what kind of governing is right.
Switch to Dutch.
Code voor Kinderrechten
Quirine van Eeden (Waag) en Simone van der Hof presenteren Code voor Kinderrechten:
CVKR is een code van 10 beginselen gebaseerd op de kinderrechten beginselen van de VN. Het doel is om de cruciale wet en regelgeving heel tastbaar en begrijpelijk te maken voor professionele tech ontwikkelaars. Het is heel toegankelijk. De doelgroep is professionele ontwikkelaars en ontwerpers om hun te enthousiasmeren om PublicSpaces voor kinderen te maken. Maar het is ook de bedoeling om andere overheden en instellingen hierover in beweging te brengen.
De volgende stap is om hier veel bekendheid over te creëren. Ze hopen ook reacties te krijgen van kinderen, juristen, overheden, scholen, etc. met suggesties over wat wel en niet werkt. Ze hebben geprobeerd om hele toegankelijke handvatten te maken, maar horen graag of dat werkt of niet. En best practices kunnen ook nog goed toegevoegd worden. We willen het ook echt een levende code laten zijn (Simone).
Het digitale stembusakkoord
Het stembusakkoord werd opgezet door Marleen Stikker (Waag), Evelyn Austin (Bits of Freedom), Serv Wiemers (Open State foundation), en Paul Helsloot (Amnesty International).
Evelyn: Er is niet genoeg aandacht voor de digitalisering in de verkiezingsvoorstellen en de politieke agenda. De politiek loopt achter op de digitalisering en daar moet verandering in komen.
Paul: digitalizering is ook een mensenrechten probleem, kijk maar naar de toeslagen affiare.
Serv: als je alle data etc open gooit, maakt dat de democratie sterker. Dit is een nieuw terrein, maar dat moet hoog op de politieke agenda komen te staan. Natuurlijk gebruik je een algoritme, dat is prima. Maar gooi het open en maak het democratisch.
Marleen: er zijn wel waakhonden, maar die zijn onderbezet. Er moet veel meer geld worden besteed aan toezichthouden, want dat is fundamenteel dat de publieke waarden worden gewaarborgd.
De big tech heeft ongeloofelijk veel macht in Nederland, en het is hard noodzakelijk de nederlandse burger
"baas in eigen data" wordt.

Tiers bakker, SP
Barbara Kapman, PvdA: het is fijn dat het digitaliseringsstembus akkoord er is, aangezien het onze hele samenleving aantast. De mensenrechten die we hebben staan erg onder druk in de digitale wereld. Er is te weinig kennis over digitalisering in de politiek, en er moet geen beentje maar echt een marathon bijgezet worden om dit in te halen.
Andrew Harijgens, GroenLinks: de eerste drie punten van het stembusakkoord gaan over mensenrechten en horen dus dicht bij elkaar. Dat zijn de drie dingen waar ik me hard voor ga maken.
Hind Dekker-Abdulaziz, D66: gaat zich hard maken voor het hele stembusakkoord want het staat allemaal in het verkiezingsprogramma. De digitale stem moet in het kabinet komen.
Matthijs Pontier, Piratenpartij: zet zich in voor alle punten uit het akkoord en wil nog verder gaan. Transparante en uitlegbare algoritmes die op mensenrechten worden getoest moeten bovenaan het lijstje staan. En de andere partijen moeten stoppen met geld pompen in het gebruik van deze algorithmes
Sebastiaan van Pruissen, Partij voor de Dieren: had nog verder gekund, veel algoritmes moeten gewoon van tafel niet enkel "mensenrechten beschermen."
Itay Garmy, Volt: alle punten zijn belangrijk. En de bevolking moet zich hard maken voor het waarborgen hiervan.
Evelyn: toezicht is erg belangrijk, maar er is meer nodig dan dat. Bedrijven moeten ook echt verantwoordelijk gehouden worden door de overheid. En ook de overheid moet kritisch zijn over hun eigen gebruik van data en algoritmes.
Het stembusakkoord is getekend! En de vier organizaties zeggen dat ze actief blijven samenwerken.
Clarice tegen de politici: "Jullie worden in de gaten gehouden."
Bekijk hier het hele stembusakkoord.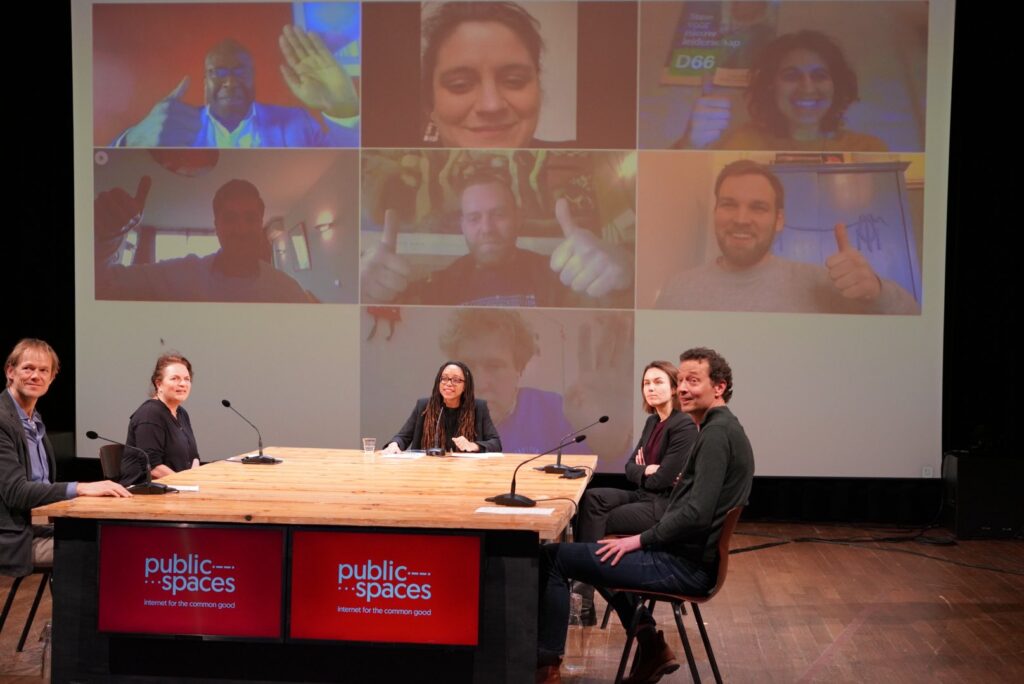 Event Timeslots (1)
Main track Friday
-
🇬🇧