SAVE THE DATE: Friday March 12, 2021
Public Spaces Conference #1 – Towards a Common Internet
A day and a night working towards an ethical Internet. Who is working on this and what is available? How to switch to fair systems? Failure stories and what can be learned from each other? What are the needs of public organisations and how can form alliances? Taking small but forward steps together towards a public space on the internet.
Subscribe to our newsletter to stay informed or take look at the dedicated conference page here. See you in March!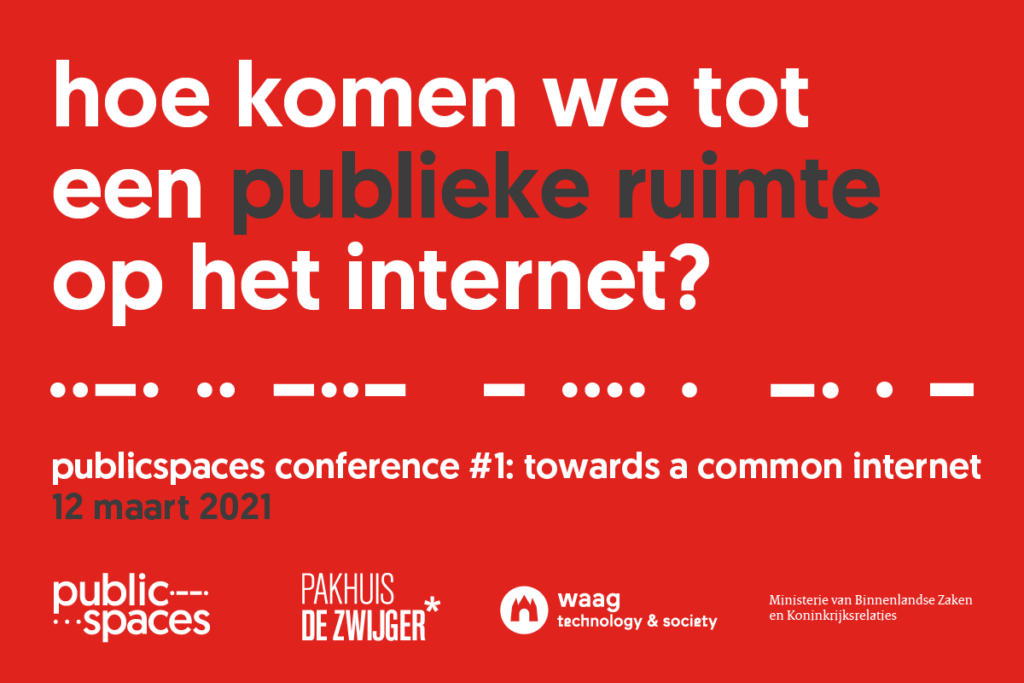 SAVE THE DATE: Vrijdag 12 maart 2021
Public Spaces Conference #1 – Towards a Common Internet
PublicSpaces organiseert in het voorjaar van 2021 in opdracht van het Ministerie van Binnenlandse Zaken een tweetalige conferentie om het internet te redden. Maar HOE DAN?
PublicSpaces, Waag en Pakhuis de Zwijger organiseren samen een actiegerichte en resultaatgerichte dag om het internet een stapje gezonder te maken. Samen met onze partners, publieke organisaties, bouwers van alternatieven, politici en betrokken individuen beantwoorden we de onmogelijke vraag: hoe komen we tot een publieke ruimte op het internet?
Volg alle informatie over de conferentie via onze nieuwsbrief via de conferentiepagina hier. Tot ziens in maart!